Suburban EMS has taken an active role in the communities we serve by giving back when we can. We are committed to supplying our communities with any EMS services, by participating in special events, performing demonstrations, youth educational programs, sporting events, health fairs, parades, and community weekends.
We schedule the maintenance of approximately 21 AEDs (Automated External Defibrillators) used by Police, Fire, and community facilities.
We also provide CPR and First Aid and Safety training for Police; Fire; office personnel; Boy Scouts and other local organizations. It is important to us that we educate the youth on safety by contributing our knowledge and skills to children in public school safety programs. We are honored to be a valuable part of the communities we serve.
We perform standby's for community functions and events, marathons, and local community sporting events.  Suburban EMS is responsible for doing standby, during the fall football season for local schools in our coverage area, these are the following schools.
Easton School District- Middle School
Pius X High School- Varsity and Junior Varsity
Pen Argyl Area Senior High School- Middle School, Junior Varsity, Varsity
East Stroudsburg South- Intermediate, Freshmen, Junior Varsity, Varsity
Stroudsburg High School- Junior High, Freshmen, Junior Varsity, Varsity
Wilson Area High School- Middle School, Junior Varsity, Varsity
East Stroudsburg University
Palmer Township Community Football
Forks Township Community Football
Suburban EMS has volunteered in the past to do ambulance standby's for community events and fundraisers.
PA Health Department H1N1 Flu Shot Stand-by's
Bangor Band Festival
East Stroudsburg Arthritis Walk
Palmer Elementary School Health & Safety Day
Tracy Elementary School Health & Safety Day
Forks Township Community Weekend
Palmer Township Community Weekend
Victaulic Corporation United Way
Stroudsburg Home Depot Fire and Safety Day
The Pocono Parents of Down Syndrome (PPODS) Walk at Dansbury Park
Crime Watch Day at Dansbury Park
Breast Cancer Walk at East Stroudsburg University
Easton High School Thanksgiving Football Bonfire
Halloween  - Drive around to promote safety
Forks Township Jr. Firefighter 5K Run
ACSI Northeast Region Track Meet at Bangor Borough Park
Freemansburg Motorcycle Hill Climbs
Lookout Fire Company Spring Festival
Lookout Fire Company Labor Day Celebration
Blue Valley Farm Show
Roseto Big Time
Girl Scouts
If you would like to have Suburban EMS at your next event, call to schedule the event at 610-253-0760.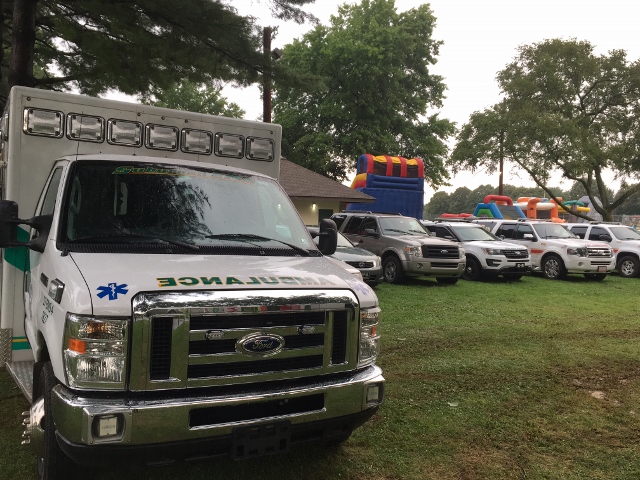 "WE CARE, EVERY HOUR, EVERY DAY"
To schedule a transport call 610-253-0760